Projects with a staycay vibe
A selection of communication we've recently produced for our clients.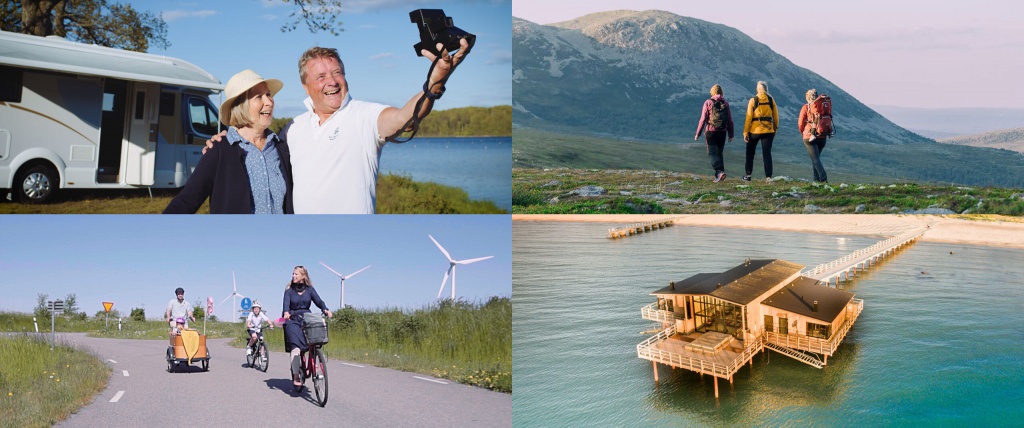 When browsing through some of the things we've been working on lately, we can't help but long for the coming holidays. Biking on beautiful bicycle paths in Skåne, a care-free life on the road in an RV, relaxing in a deluxe hotel or, hiking in the Swedish mountains... Here's a selection of vacation-themed communication we've recently produced for our clients.
Freedom on wheels with Bengt i Örkelljunga
Experiencing nature has become more and more popular over the past few years. Bengt i Örkelljunga, one of Sweden's largest RV and caravan retailers, asked if we could help them capture two things on film: the feeling of freedom on wheels, and the special sense of community within their iconic 50-year-old family business. It was a fantastically fun assignment, which left more than one KAN colleague itching to get their own RV this summer. You'll be able to watch the beautiful result shortly!
Summer on Idre Fjäll
Most people would probably associate winter activities with the Swedish mountains", but they're just as wonderful in summer. We recently completed the creation of Idre Fjäll's new website to both inspire customers and make it easier for them to plan and book a complete holiday in the Swedish mountains in summer and winter. After visiting our client's resort, we can enthusiastically recommend biking, hiking and enjoying the marvellous nature there.
Bike-cation in Skåne
The bicycle path network in Skåne is constantly expanding with new, safer and faster routes. In fact, you can get around the entire region on your bike. Last year, we worked on a major campaign for Regional Utveckling in Skåne that seeks to inspire residents to cycle more, and municipalities to promote increased cycling through focusing on – among other things – the remarkable health benefits of riding your bike. The campaign is still in full swing on multiple channels, and we've produced new films and ads to inspire more people to travel by bike this summer.
A place for self-indulgence (the good kind)
Even if it's been a little while since we built the websites for Gram's three hotels – Hotel Skansen, Torekov Hotel and Hotel Riviera – we can't help but let our minds drift to the beautiful Bjäre peninsula, with its picturesque surroundings, dramatic cliffs, and ocean views. At the start, our mission was to present hotel with its own clear, individual identity, creating websites and filling them with just the right content. Now, we continue to operate those sites, keeping them fresh and up to date. We're looking forward to at least one trip to this magical place this summer.
Give your marketing a summer push
A site with a better conversion rate? Engaging-social media content? How about a brand-elevating video spot? Get in touch and we'll find the best solution for your brand, together.