A word from our CEO
A review of the past year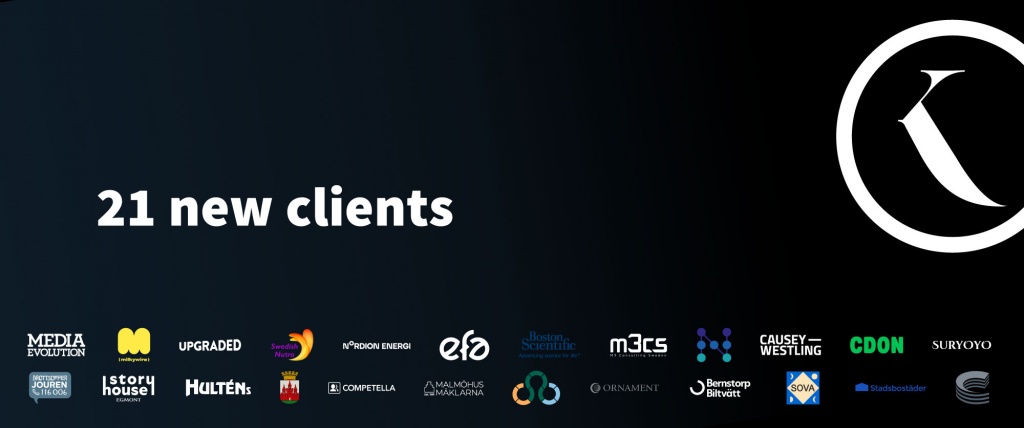 2021 was a year full of exciting challenges and success for KAN, and the agency continues to grow. Several new clients from various industries have been added to our roster, and the work of developing deeper relations with existing clients is in constant focus.
We kicked off 2021 with brilliance, scooping a double win in the Agency of the Year Awards. KAN was named winner in the Digital Agency 50+ MKR category, and our newly acquired agency Winston took top honours in the Digital Agency 6-25 MKR category. This was the start of our investment in Stockholm, and in connection with the acquisition of Winston, our new office in the capital was also inaugurated. 2021 was characterised by growth and several challenging projects where we helped our clients with everything from strategy, customer experiences, film production, and design to the implementation and management of digital solutions. We begin 2022 with offices in two cities and a staff of 120+ talents ready to take on new challenges.
Over 120 active clients
2021 was an eventful year, and despite the pandemic hanging over us, we continued to grow and made several forward-looking investments. We had the privilege of welcoming 21 new clients to our roster, and today we have over 120 active business relationships reaching across Sweden and Europe. Additionally, business was expanded with several of our clients, including Lärarförbundet, Tetra Pak, NIBE, Midroc, Ikano Bank, Dux, Castellum, and a global lock company. Throughout the year, we saw an increased demand for full-scale communication solutions; it remains clear that our full-service offering is a winning concept. This year, we will be continuously investing in developing that offering to ensure we continue to meet our clients' needs and help them grow in today's digital world.
Working with friends
At KAN, we are convinced that good client relations based on shared goals are the key to long-term business success. That is why we place great emphasis on maintaining and developing relationships, both externally and internally. We also deepened our ties within the Egmont family during the past year through broader collaborations with our sister agencies, Ingager and Okto. As part of the Egmont Group, we get the opportunity to work closely with industry colleagues, developing the digital solutions of the future together.
A year of growth
The past year saw significant demand, and KAN grew on several levels. We exceeded the figure of 100 in both the number of employees and in sales (millions of SEK per year), which strengthened our position in the Swedish market. It is through hard work, commitment, and constant client focus from our fantastic colleagues that this was made possible. In 2022, we will continue to expand, and since the turn of the year have already strengthened our teams with 14 new talents, with skills across technology, design, and content. But we are always on the lookout for those that can help drive KAN forward.
Visit our career page to check out our vacancies.
Author: Norea Nyström