Sales and marketing departments are forced to digitalize
How does one do it?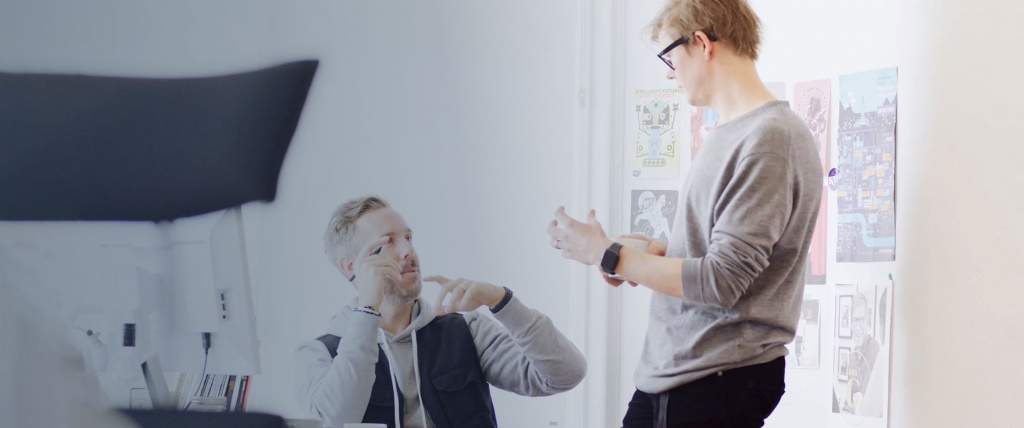 With physical meetings growing increasingly rare, we need to find alternative communication methods. When sellers no longer go to networking events or visit clients, and marketing departments aren't planning any fairs or events, digital communication becomes one of the most important alternatives.
When the corona crisis started affecting businesses, most people realized that old habits needed to adapt to the digital era – which was already here to stay. Most companies adapted quickly to the new landscape since they could no longer attend physical fairs, meetings, or social events. Instead, they adapted to digital marketing and sales. This is how many of them built up their digital communication and sales operations (have you done it at your company yet, or do you still have it ahead of you?).
How does one digitalize one's marketing and sales organization?
Example: In a general digital customer journey, it can look like this:
Anna, a potential client, is experiencing a problem or need and is looking for answers online.
She heard about your company for the first time through a digital ad or an interesting article on social media.
She clicks her way onto a page on your website where she gets a good feeling about the brand and finds the messaging on the page valuable.
The website's content is so interesting to Anna that she:
–  Clicks the call to action on the page and contacts your sales representative – case closed!
– Signs up for your newsletter.
– Downloads a pdf or watches a video in exchange for her contact information.
Anna becomes a contact, a lead in your CRM – your digital customer base.
A marketing automation tool (MA) sends a list of pre-written e-mails to Anna with educational content.
Anna can get her questions answered, see educational videos, and chat with a chatbot or one of your sales representatives.
Anna receives a score on your CRM depending on what actions she takes, for example, if she clicks the links in your e-mails.
Once she receives a specific score, the system flags Anna as a warm lead.
The MA system then invites Anna to contact one of your sales representatives, and she can book a meeting in the sales representative's calendar.
By booking a meeting, Anna automatically gets an invitation to a video meeting with the sales rep.
She also receives a link to a form where she can answer some basic questions.
The sales rep can see the answers, what Anna has clicked on, and what she has seen and read, and therefore knows what she's interested in and already knows.
The meeting takes place online, and agreements are signed through a digital signing service.
A digital buyer's journey
The buyer's journey described above is built on the principle that people prefer doing their own research rather than being contacted by a sales representative (so-called cold calling) or getting spam-like sales e-mails. That means that companies need to be searchable, relevant, and interesting, requiring high-quality information. In addition to the quality of the information, you also need knowledge about your target audience and be able to tailor your communication to the target audience's different phases when they go from being strangers to customers. 
First, you need to attract your target audience to be able to convert them to leads. After that, you can start working towards closing the deal. For many companies, especially B2B, these types of sales cycles can be long and demanding. In these cases, systemizing your communication becomes extra important. 
What do you need to start building a digital leads machine?
The entire customer journey can take place digitally without physical meetings or paper. Sales reps can work and collaborate through digital tools without sitting in an actual office. And since all the material is produced and presented digitally, communication with potential clients can be more efficient and automated.
While you're working with digital marketing and sales, you're also developing and improving your customer journey and advertising with the help of both statistics and feedback from clients.
In the example above, we assume that the sales and marketing departments have learned to work together and that the routines and strategies are already in place. In addition to this, you also need the following:
Ad accounts on Google and social media such as LinkedIn, Facebook, and Instagram.
A modern and digitally suited brand.
A user-friendly and attractive website with a conversion focus.
Digital content in the form of well-written copy, images, videos, and animations.

 

A CRM with marketing automation and newsletters.
A digital calendar and booking service.
A signing service for digital contracts.
Building a digital customer journey like the one above is a method called inbound marketing.
We digitalize your sales and marketing department
We are a full-service agency that can take care of all or parts of your digitalization – from brand and communication to technical platforms, marketing, and analysis. Or, more specifically:
Strategy and advice
Concept and brand development
Digital marketing and conversion
Search engine optimization, e-mail, and social media
Graphic design and production for digital and print
Web production and development
App development
Copywriting (web, social media, internal communication, etc.)
Content production (photography, video, graphic design, animation)
Inbound marketing and marketing automation
Analysis and evaluation
Aktiv förvaltning och premium hosting av webbplatser
Active management and premium hosting of websites
Training for your employees