How inbound marketing can benefit your business
Long-term work and a strategy for the entire company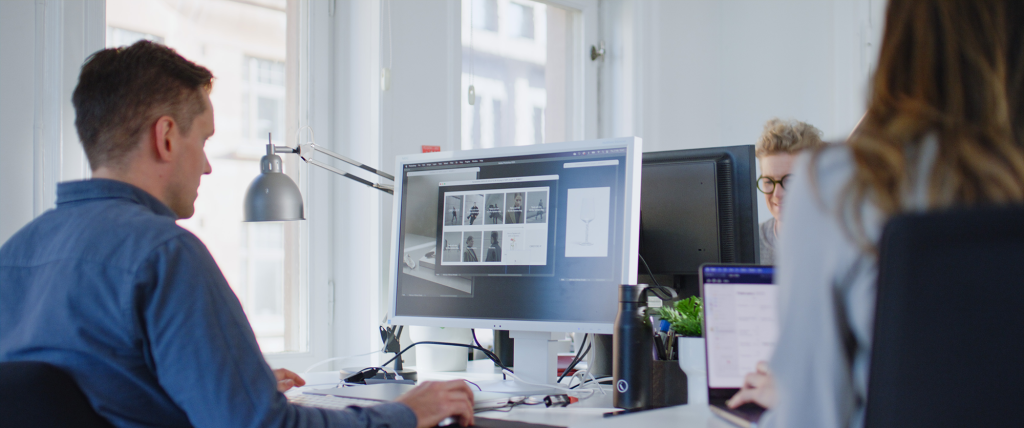 When talking about inbound marketing, you usually speak about long-term work that takes time and consistency, but you can often start seeing the effects of the work shortly after you start doing it. And, of course, the goal is to earn more money than it costs: ROI or return on investment. Hence, inbound marketing is not a temporary project but a long-term strategy for the entire company.
Let the long-term strategy lead the way
Working with inbound marketing is a long-term commitment. Everyone involved needs to collaborate and work towards the same goal for an extended period of time. That is also one of the benefits of inbound marketing; everything you do is long-term. Instead of spending all your money on short-term advertising, you build up a nice long-lasting monster. Every effort you make generates a future entryway for potential customers. By creating a strategy for your digital marketing, having a plan, and measuring your efforts, you can more easily focus the efforts where they make the most significant difference.
Increasing traffic isn't enough
Many companies invest in search engine optimization (SEO) and search engine marketing (SEM) for the pages that are already part of their website. However, they have little or no control over what the work and budget generate – or even what to do with the traffic that the marketing generates. To solely increase the amount of traffic to a site is usually not enough. Worst case scenario, the visitors are scared off forever. For example, a website might not have the tonality, design, or content needed to be perceived as trustworthy or attractive to the target audience. We have seen many cases over the years where companies have invested tremendous sums of money in short-term advertising without first having an overview of what their visitors are met by once they visit the website.
With the buyer's journey in mind
One of the main focuses of inbound marketing is meeting the customer in their buyer's journey. If you start thinking about your website's function in your communication, you'll see that it's part of a chain of events in your potential customer's buyer's journey. With a good inbound strategy, you can ensure that your potential customers stay in contact with you somehow, whether at the beginning or the end of their buyer's journey and whether they're ready to initiate contact. The strategy often contains a series of ads, articles, and e-mails. In addition to working with the brand's tonality, messaging, and design, they also have to be adjusted to fit the customer's situation and level of knowledge. Once you view your website as part of your brand, strategy, and marketing, you'll also understand that the entire chain needs to stick together for it to work.
Increase your sales with inbound marketing
Working with inbound marketing is all about making marketing efforts on the customer's terms. Instead of seeking out the customer, the customer finds you when they're looking for your company or a product or service that your company offers. That way, you can ensure that you attract the customer throughout the entire buying process, whether it's in the beginning, middle, or end. If you can help the customer through the whole buying process, your chances of increasing your sales are very good.
By figuring out who your customers are and their different buyer journeys, you can create a pretty clear picture of the steps they go through. This will then help you find moments along the buying process where you can contribute and help the customer move forward on their buyer's journey. And if you know enough about the customer's buyer's journey, you can create automatic workflows. In the end, that means that you don't have to take action every time a specific customer takes a particular step, but instead, let the automatic processes do the job.
In other words, it's about finding action points and using them when developing content that the customer needs throughout their buyer's journey so that they, in the end, make a decision and choose you. The beginning of a buyer's journey is about making the customer aware that you exist while they gather information. When the customer has come a little further in the process, it's about convincing them that your product/service or brand can solve their problem and help them forward when they're weighing different options against each other. And finally, you need to give the customer the content and information they need to decide and choose you and your company.
Different parts of the buyer's journey require different types of content. For example, it can be articles highlighting a specific topic or a problem the customer has, how-to videos, a chat function, a FAQ sent out by e-mail, an invitation to a webinar, an explanatory video, a chart comparing different things, and so on. The list can be made long, and it is up to you to determine what your customer needs to move forward in their buyer's journey.
By using automated processes, you save time – time that you can use more efficiently. The customer's buyer's journey doesn't end with the purchase. So, you can, for example, use the time you save by using automated processes to take care of the customers that already are your customers. There are many benefits to working with customer care, and, perhaps most importantly: it's more profitable to ensure that existing customers stay as customers than constantly attracting new ones. 
What do you need to start working with inbound marketing?
That your organization is willing to change and can change and restructure its resources and budget
Multiple parts of your organization need to agree to work with a long-term inbound-strategy
That everyone involved collaborates and works towards the same goals
That you can invest time and money into attracting customers instead of hunting them down
That you offer knowledge that can create legitimacy
That you systematically build a relationship to your potential customers
That you automate several processes instead of wasting time on each step every time with every customer