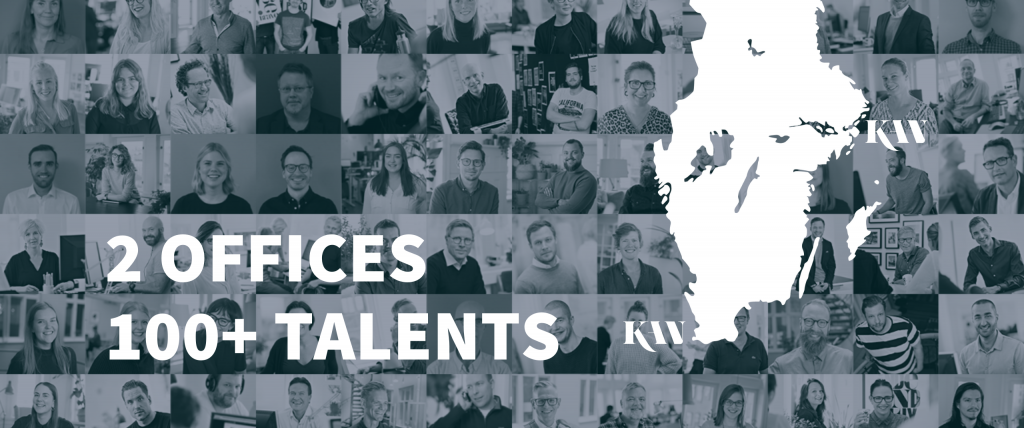 Founded 16 years ago in Malmö, KAN has long been one of Sweden's leading communications agencies. With the acquisition of award-winning, Stockholm-based digital agency Winston, KAN is entering into a new and exciting phase. Since January 2021, we have become an agency with two offices – one in Malmö and one in Stockholm – keeping its name, organisation and culture.
KAN has experienced steady growth since its start in 2005. In recent years we've secured an impressive number of new assignments, resulting in the recruitment of 20 new coworkers. To strengthen our position in the Swedish market, we've been looking for the right opportunity to establish in Stockholm. Teaming up with Winston ticked all the boxes. We've now passed the 100 mark, both in terms of coworkers and millions of SEK in annual turnover, while bolstering our standing as a strong partner for Swedish and international clients.
Agency of the Year winner
A full-service digital agency, Winston was founded in 2003. Focusing on digital user experiences and including analytical and strategic services, concept development, UX design and technology development, Winston is a multiple nominee as well as winner of the "Agency of the Year" award. Clients include e.g. RFSU, the Swedish Teachers' Union, Rikshem, National Property Board Sweden (SVF), Trygghetsrådet and Jernhusen. Today the agency is made up of 12 coworkers.
Perfect match
"Winston had the profile, know-how and people, making them a perfect match for us", says KAN's CEO Per Harrysson. "Just like us, they've built up a stable operation with a clear focus on client satisfaction and measurable results. Together we can offer what more and more clients are after – strategy, customer experience, film/animation as well as design, implementation and  management of digital solutions."
Our team: over 100 strong
Winston is now KAN, becoming an integrated part of KAN's organisation, culture and way of working. We are one company and will work seamlessly, despite being located in two separate addresses. If there is one thing we've learned during the pandemic, it's that the use of smart digital tools makes it possible to work at least as well remotely. Our clients, managers and coworkers all agree. At KAN, it's business as usual – and we like it!